At 12:13 PM on December 7, 2021, Galactic Energy Space Company successfully launched Ceres-1 (Y2) · ping an bank digital pocket carrier rocket from jiuquan satellite launch center, successfully placing five commercial satellites into a solar synchronous orbit of 500km.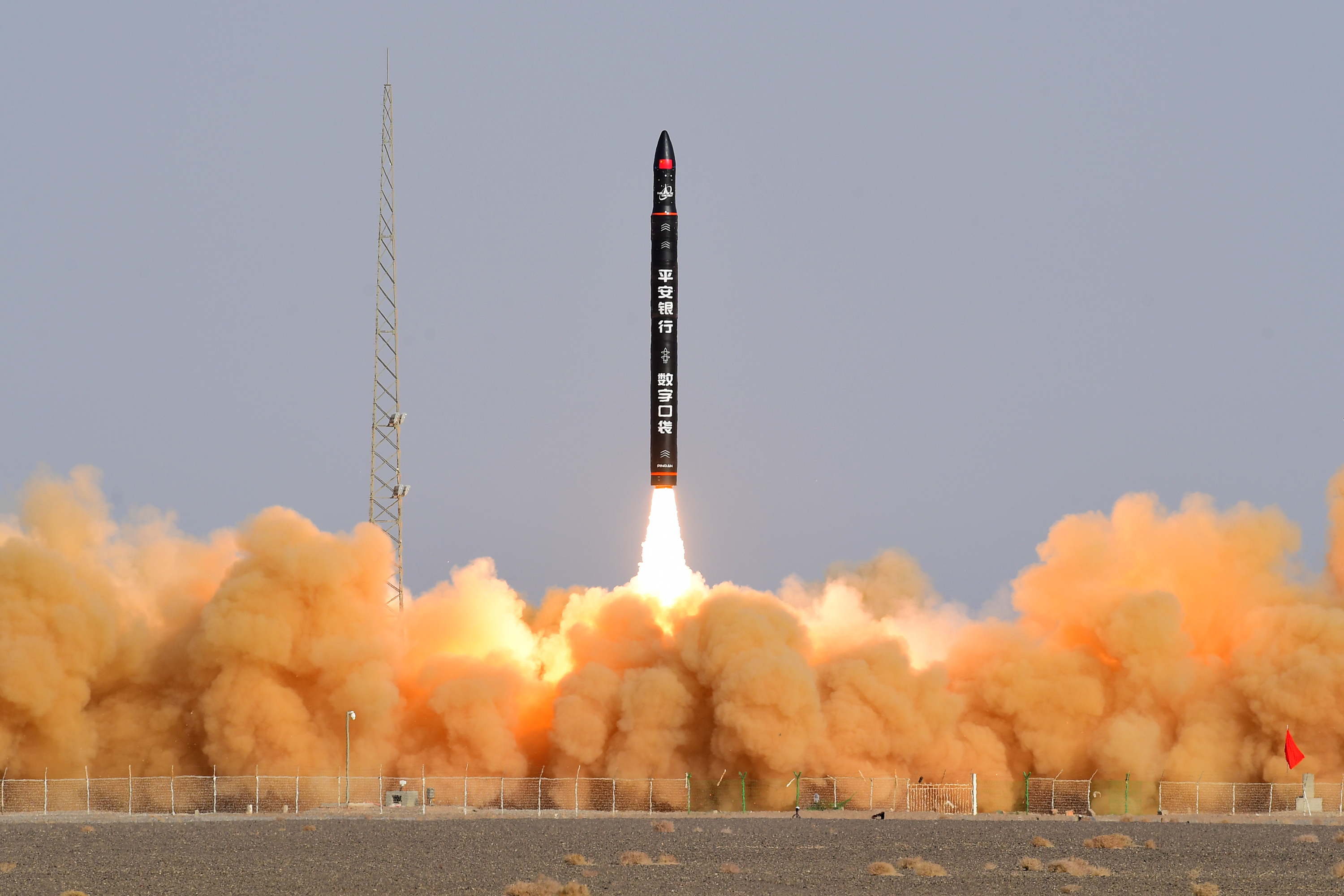 Credit | Wang Jiangbo
This launch achieved the first consecutive success of domestic private rocket and the first breakthrough in the commercial launch of multiple satellites with one rocket, marking the increasingly mature technical state of CERES-1 commercial rocket and taking the lead in the new stage of commercial launch and delivery among domestic private commercial launch vehicles.
CERES-1 is a four-stage small commercial launch vehicle independently developed by Galactic Energy Space Company, which is committed to providing high-quality and inexpensive customized launch services for small commercial satellites. The first, second and third stages of the rocket use solid engines, while the fourth stage is the liquid upper stage The rocket has a diameter of 1.4 meters, a length of about 20 meters, a takeoff weight of about 33 tons, and a 500-km sun-synchronous orbit carrying capacity of 300 kilograms. It is the most cost-effective and competitive small launch vehicle in the commercial launch market at present, and can provide customized services such as exclusive sharing and carrying of tiny satellites for domestic and foreign satellite customers.
The CERES-1 (Y2), ping an bank numeric pocket rocket altogether 5 commercial satellite launch, which are Changguang Satellite Technology's 'Tianjin University-I' infrared remote sensing satellite, 'Lize-1' and 'Baoyun' which are scientific experiment satellites developed by Changsha-based Spacety, 'Golden Bauhinia-5', a remote sensing satellite developed by Starwiz (Zhongke Xingrui Technology (Beijing) Co., Ltd.), and 'the Golden Bauhinia-1 (03)' remote sensing satellite developed by Beijing-based ZeroG Lab. At the same time, the rocket also carried the space commemorative payload of Pingan Bank's two strategic projects, 'The Nebula Consortium project' and 'digital pocket' , as well as a storage card storing Ping An Bank's digital assets.
After the successful maiden flight of CERES-1 (Y1) carrier rocket in 2020,Galactic Energy Space Company has carried out a lot of basic work around the three goals of improving the rocket's carrier performance, quality control capacity and mass production and delivery capacity:
1, In terms of the comprehensive performance improvement of the rocket, based on the analysis of CERES-1 (Y1) flight data, the overall dynamic joint optimization is further carried out to improve the mass ratio of the power system and the total impulse performance, and the guidance method is improved to further improve the orbit entry accuracy.
2, In the aspect of quality control ability to ascend, for the ground test adequacy, outsourcing product quality management and assembly quality control links such as controlled process, the total test further around the space model of fine quality management and quantitative management requirements, to optimize the control measures, realizing the closed-loop, development and production of all improve the whole process quality control ability.
3, In the aspect of mass production delivery ability to ascend, curing technology product status, to carry out the parts in bulk production, further planning and construction of rocket assembly integrated pulse assembly line, makes every effort to provide a more efficient assembly environment, and further enhance the level of the production process of comprehensive information, digital and assembly process to speed up the production automation, integration in the direction of development.
Since its establishment, Galactic Energy Space Company has always been based on industrial thinking, closely around market demand, and is committed to creating commercial rockets that can meet market demand, industrialization and mass launch Therefore, although Galactic Energy Space Company is the first private rocket company in China to enter the 500km solar synchronous orbit, the real industrialization of commercial rockets needs to be solved not in orbit nor how high the orbit is, but to achieve continuous, stable and reliable rocket launch success and low-cost large-scale mass manufacturing Private rocket for the first time this year, the company finally realized continuous successful launch, and the launch of the breakthrough, achieved more than one arrow star toward industrialization goal one step closer to our commercial rocket In the future, Milky Way dynamic space will, as always, continue to strengthen technical innovation, improve product quality control, improve the ability of batch launch services, booster development of China commercial space industry "Said Liu Baiqi, CEO of Galactic Energy Space Company.
Thanks to Chang Guang Satellite Technology Co., Ltd., spacety, Zhongke Xingrui Technology(Beijing)Co., Ltd, ZeroG Lab and other satellite customers for their trust and support. We thank Ping An Bank Co., Ltd. for its exclusive naming of the launch mission, which aims to support the development of the real economy through finance and the construction of digital China and science and innovation China through scientific and technological innovation.
Thanks to Essential Capital, Fenghou Investment Management (Beijing) Co., Ltd., Beihang Buaa Investment Co., Ltd., Amphora Capital, Kexin Capital, Puhua Investment Co., Ltd., Shanghai Huaqiang Equity Investment Management Co., Ltd., Plum Ventures, Sichuan Enterpreneur Fund, Weed Ventures, Shenzhen Qifu Capital Management Co., Ltd., Great Filter Ventures, Shenzhen Oriental Fortune Capital Investment Management Co., Ltd., Yunding Capital, JiangNan Construction & Investment Group Co. Ltd., Zhongtian Fortune, Suzhou Industrial Park Zhidao Investment Management Co., Ltd., AVIC Capital, and other shareholders with Galactic Energy Company all the way peers.
Thanks to every employee of Galactic Energy Space Company for their efforts and hard work, and thanks to every employee's family for their silent support and tolerance.
Thanks to all the friends who care about space exploration and support the development of China's commercial space industry.
In 2022, Galactic Energy Space Company will strive to complete five commercial launch missions according to the orders in hand, and provide highly reliable and customized launch services for satellite customers. At the same time, the development process of the medium and large reusable carrier rocket 'PALLAS-1' will be accelerated, and the first flight of the 'PALLAS-1' rocket will enter orbit between the end of 2022 and the beginning of 2023.