Galactic Energy completed a 150 million yuan pre series-A funding in October 2018. Led by Puhua Capital and Huaqiang Capital, this round has attracted Lianchu Ventures, Chuanshang Fund, Weed Ventures and additional funding from Plum Ventures and Scheme Capital. Yunxiu Capital continues to serve as the financial advisor for this round. As of now, Galactic Energy has accumulated a total of 300 million yuan funding.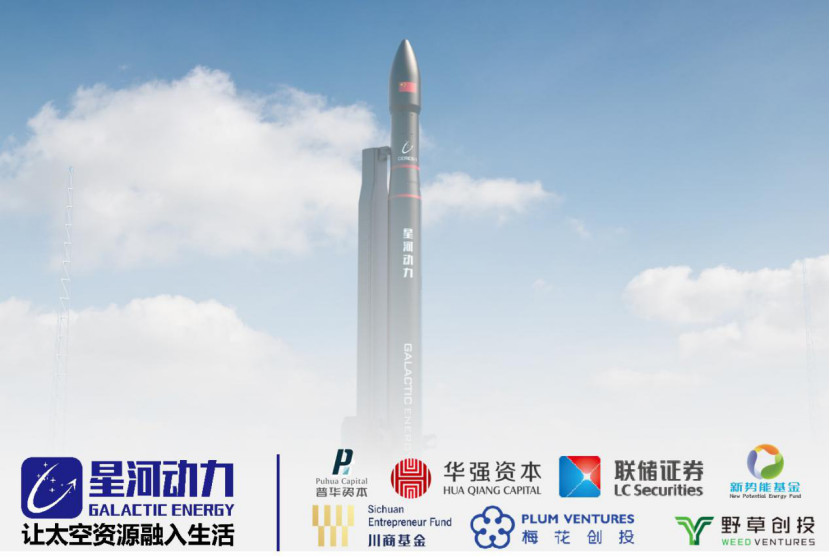 Funding raised in this round will be mainly invested on the launching of CERES-1 and the full-system test run of reusable liquid oxygen/kerosene carrier rocket of PALLAS-1.
Galactic Energy adheres to valuing technology, respecting the law and developing steadily. Since its establishment in February 2018, Galactic Energy has successively completed tests of the first, second, and third-stage of CERES-1's main engines as well as the all-state ground thermal test run of attitude control engine with
different thrust level( 25N、200N、700N、2000N). Together with its deployment and implementation of more than 30 large-scale ground tests, Galactic Energy shows the best patience in technological development among domestic private rocket companies. Galactic Energy independently designs and develops China's first liquid oxygen/kerosene engine multi-return gas generator and coaxial double-suction high-speed turbo and will strive to become the second commercial rocket company in the world after SpaceX to master the reuse of liquid oxygen/ kerosene carrier rocket.
Next, Galactic Energy will complete thorough tests before the first time launching of the CERES-1 and will make its first flight into orbit in 2020 H1.
Investors' Comments
Dr. Jiang Chun, Puhua Capital, Partner:
The new generation of aerospace technology will bring the future of mankind to a new level. Both long-term space development plan as well as recent integrated sensor communication network have shown unlimited space for imagination. Commercial aerospace industry, as a necessary and helpful supplement to the national scheme, will certainly play an important role in it. We believe that Galactic Energy will stand out in the fierce technology and market competition, and make corresponding contributions to China's aerospace industry. Puhua Capital will also continue to focus on this exciting area.
Wu Shichun, Plum Ventures, Partner:
China's commercial carrier rocket business requires vigorous participation of private enterprises. Galactic Energy has a senior and excellent team and a development route that meets market needs, making it the best among the domestic commercial aerospace rocket field. Think globally, SpaceX's "Falcon 9" is currently the only commercial rocket that has been successfully retrieved and reused for several times. And Galactic Energy has taken a key step in the development of the Chinese version of the "Merlin" engine. I am very optimistic about Galactic Energy. They will definitely be able to make China's "Falcon IX."
Chen Yu, Huaqiang Capital, Manager
Commercial aerospace is an inevitable trend in the development of the aerospace industry. Although China started later than other countries, with support of national policies, domestic commercial aerospace has developed rapidly. Galactic Energy has the most professional team, the most meticulous style as well as clear and reasonable development path. Therefore, I believe that they will soon become the next private rocket company to achieve orbital launch!
Wang Ruidong, Lianchu Ventures, Manager
Since 2015, China 's commercial aerospace industry has ushered in rapid development. In the next 5-10 years, the demand for commercial satellite launches will increase exponentially. Rockets, as the only vehicle into the space currently, have become top priority in commercial aerospace development. As a commercial rocket company, Galactic Energy has a mature technical route and an excellent technical team. It has great performance in terms of capital utilization efficiency and R & D progress. We trust them to be able to create a new generation of commercial rockets with high reliability, low cost and fast response rate.
Chen Jun, Chuanshang Fund, Manager
Commercial aerospace, as a key breakthrough in the future of the trillion-level aerospace economy, has always been a new track of the core focus of us. With a clear commercial positioning and a mature and reliable technology path, we believe Galactic Energy is one of the best companies on this track. Galactic Energy has achieved every milestone it has promised, which shows that the team has strong ability in execution and cohesion.
Li Heran, Weed Ventures, Founder & Partner
(We) value the company's technical team and strategic positioning most during the investment in Galactic Energy. According to the industry development trend, Galactic Energy has determined that the liquid oxygen / kerosene, which has been successfully verified multiple times, can be used as the main propellant of the liquid rocket PALLAS-1. This is a more stable and mature way to develop rockets in the commercial aerospace market today, laying a solid foundation for the reusability of this type of rocket. Weed Ventures is willing to work with Galactic Energy team to contribute more to the commercial aerospace industry.